Board Wemost D1, merupakan mini board arduino yang dibuat menggunakan chipset chipset ESP 8266. Board ini bentuknya mini (kecil) dan dilengkapi dengan modul WIfi, sangat cocok untuk automasi NirKabel dengan koneksi WIFI. Salah satu keistimewaan boar ini dapat diprogram dengan C++ maupun python. Untuk mendapatkan gambaran fitur dari wemos dapat dibaca ulasan singkat saya pada  tautan berikut .
Tulisan kali ini kita akan membahas beberapa hal yaitu:
Peralatan yang dibutuhkan
Mengkoneksikan board dengan PC & Mac
Instalasi Driver CH341SER_MAC
Menambahkan board agar dikenali pada Arduino IDE.
Programming board wemos ini dengan Arduino IDE.
A. Peralatan yang dibutuhkan
Peralatan yang dibutuhkan untuk melakukan programming Wemost D1 ini adalah sebagai berikut:
Board Wemos D1
Kabel USB to Micro USB (kabel data HP android)
Sebuah Macbook, Laptop atau  PC
Sofware Arduino IDE dapat didownload di https://arduino.cc/
| | | |
| --- | --- | --- |
| Wemost D1 | Kabel USB to Micro USB | Arduino IDE |
B. Cara Mengkoneksikan Board dengan PC
Hubungkan kabel micro USB pada port wemost D1 dan colokan port kabel yang satu lagi dengan USB laptop. Seharunya muncul Indikator warna (biru atau hijau) jika ditancapkan.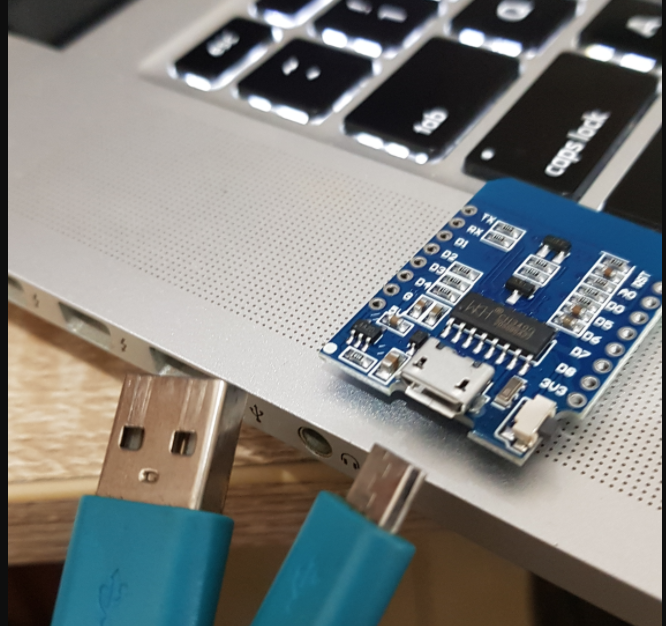 C. Instalasi Driver CH341SER_MAC
Driver CH341SER_MAC diperlukan agar board dapat dikenali oleh mesin Mac Os.
Drivernya dapat di dowownload di : http://www.wch.cn/download/ch341ser_mac_zip.html
atau download mirror disini CH341SER_MAC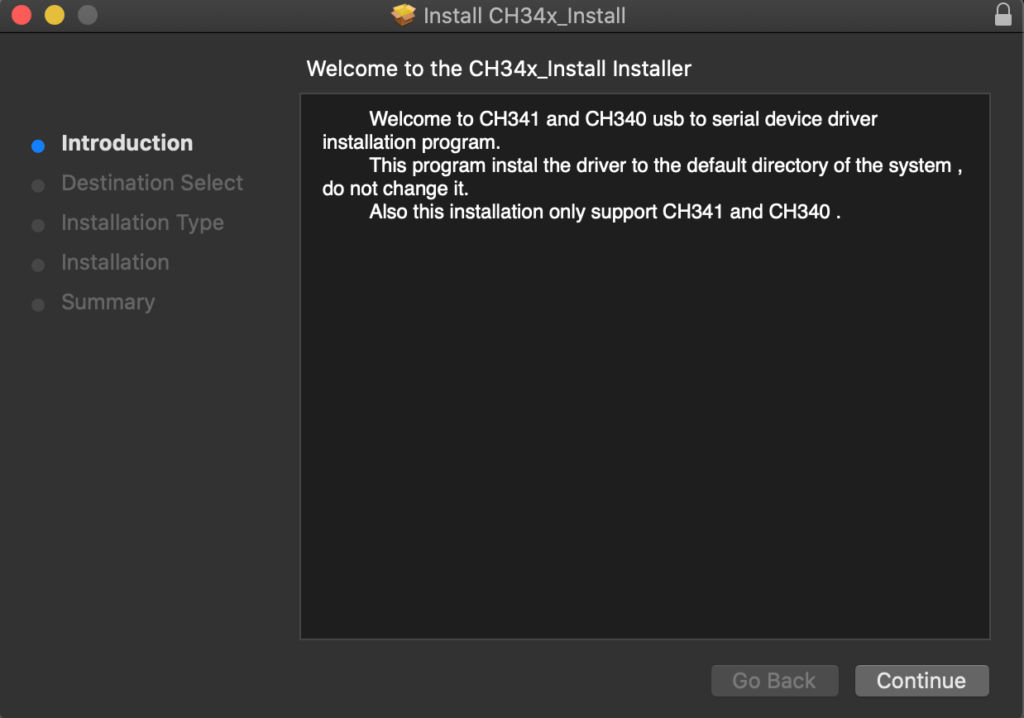 Setelah instalasi selesai rRestart Mac OS, dan Buka Lagi Arduino IDE.
Cek pada Bagial tools->port,  seharusnya sudah muncul cu.wchusbserial144
seperti pada gambar dibawah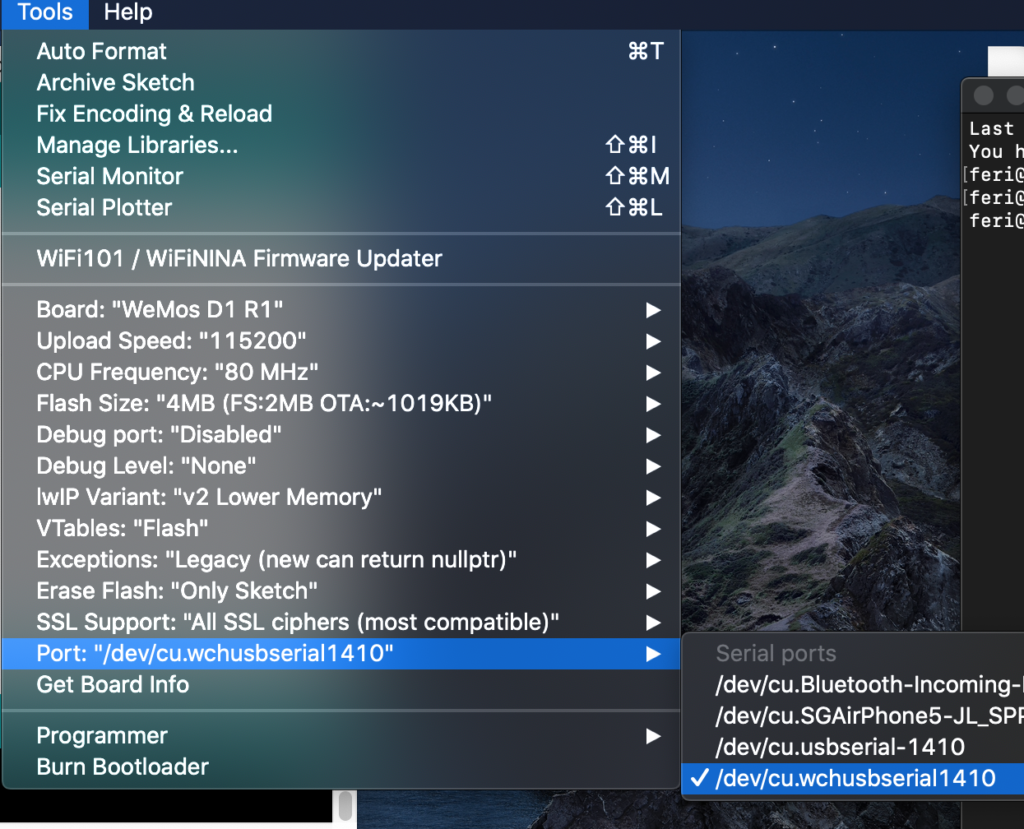 D. Cara menambahkan board agar dikenali pada arduio IDE.
Secara default board wemost D1 tidak akan dikenali oleh software arduino IDE kita.
Ada beberapa langkah yang perlu dilakukan agar board dapat dikenali pada IDE yaitu sebagai berikut:
1. Buka Menu Arduino Pilih preferences: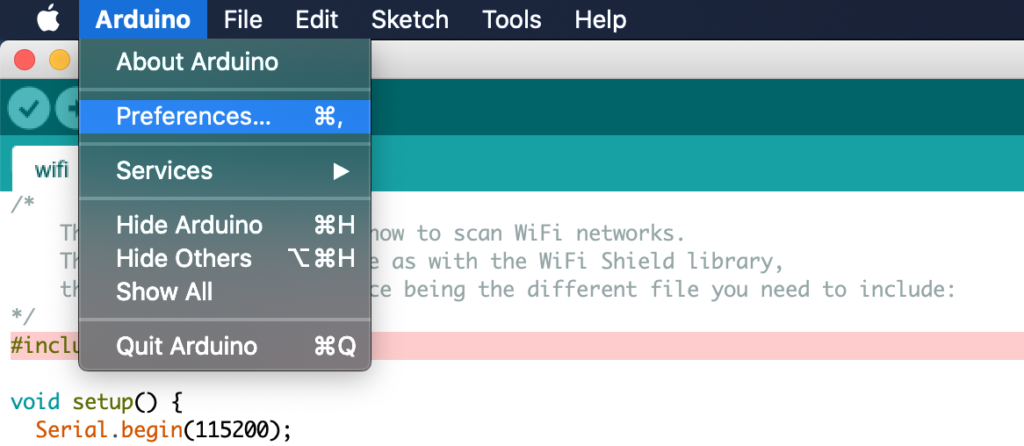 2. Pada Tab sessing dibagian Board manager URL.
Isikan URL : http://arduino.esp8266.com/stable/package_esp8266com_index.json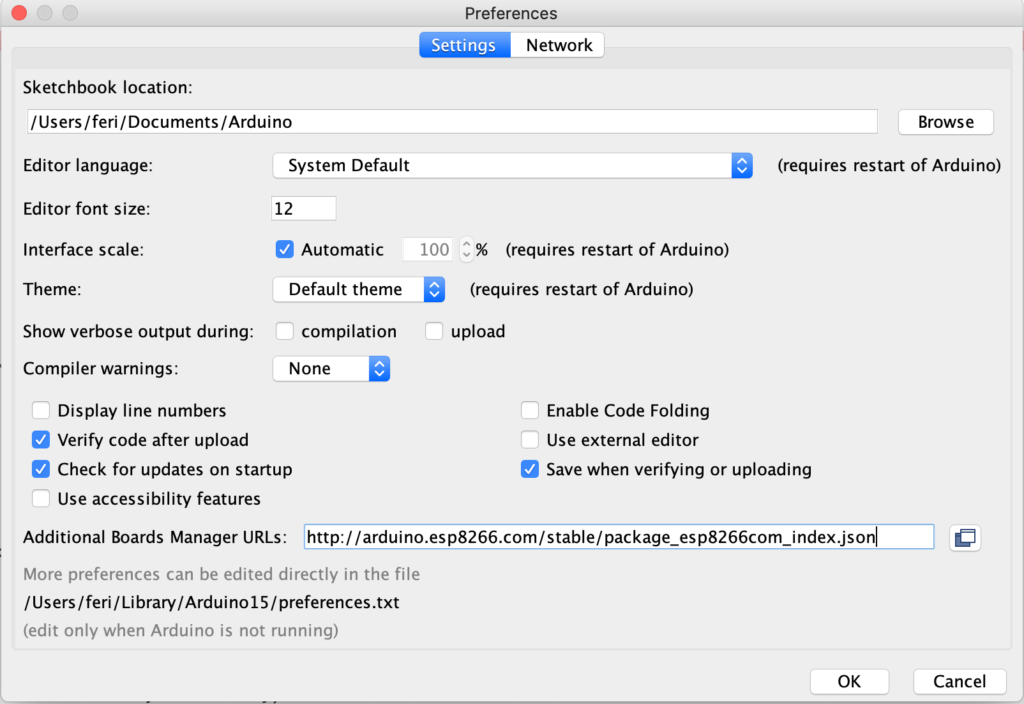 Klik OK.
3. Kemudian Klik Tools -> board -> Board Manager

4. Ketik kata kunci esp8266 , seharusnya muncul list esp8266 comunity, klik tombol install
di kanan bawah, tunggu sampai instalasi selesai.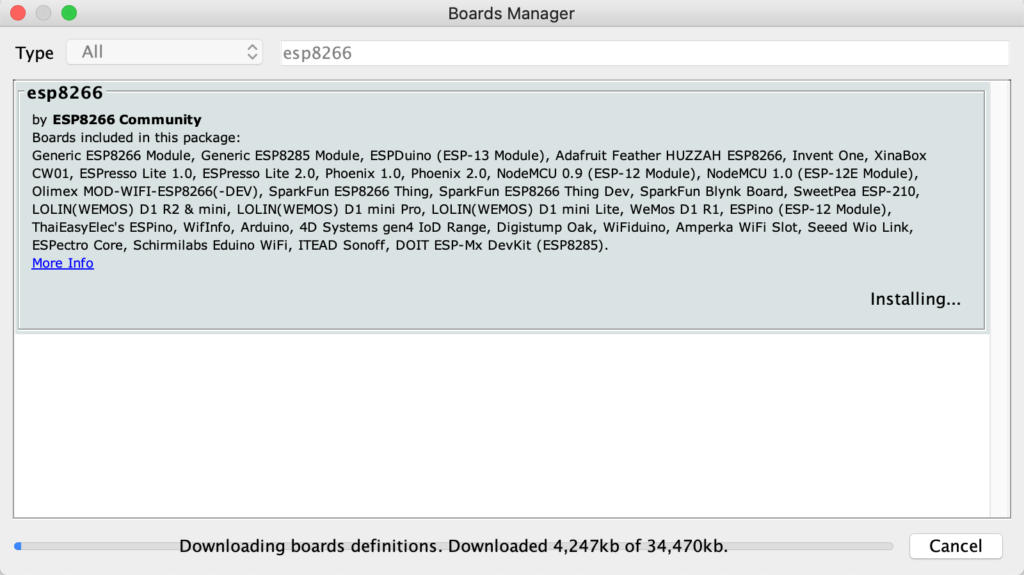 5. Jika instalasi sukses maka list board Wemos D1 R1 akan muncul pada menu.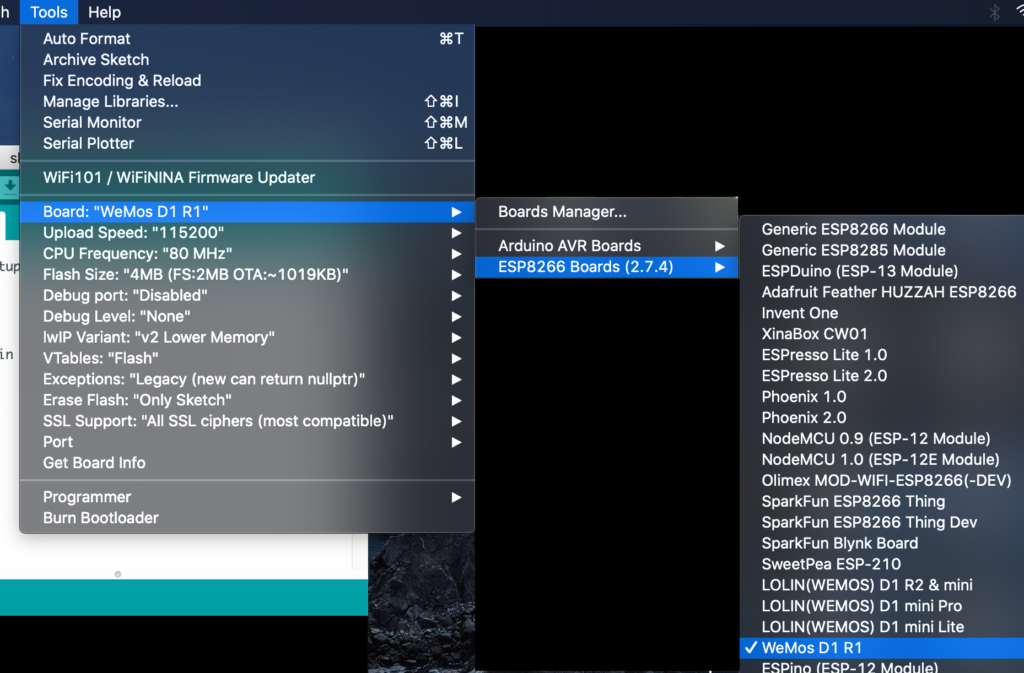 6. Bila board sudah dihubungkan mada dapat di set portnya ke wchusbserial dan dilihat info board pada menu.
Tools->get board info
e. Programming board wemos dengan Arduino IDE.
Berikut adalah cara memprogram wemos mengunakan Arduino IDE dengan bahasa C++.
Program sederhana yang ditulis adalah Hello World yaitu menampilkan Tulisan hello word pada output console usb.
Note sebelum memprogram:
Hubungkan Power wemos dengan kabel micro USB dan USB tertancap pada macbook.
Pilih Koneksi Pada Port : WCHUSB Serial.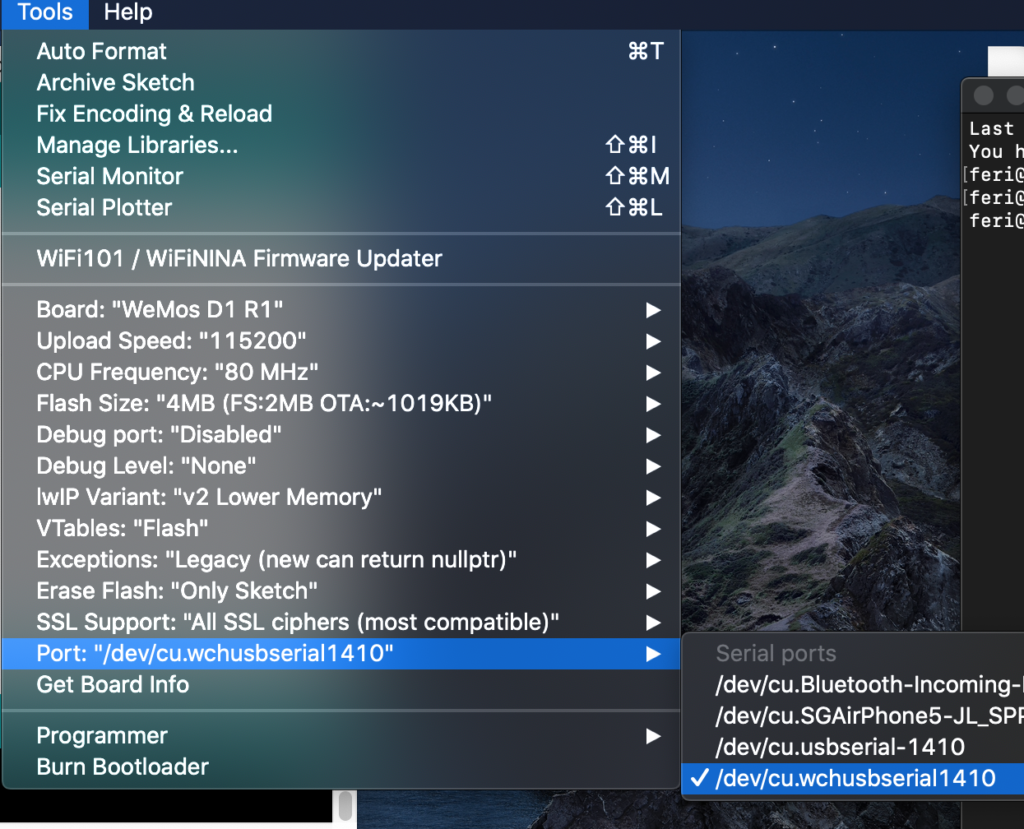 1. Tulis code seperti berikut pada Arduino IDE dan Klik Tombol Compile (seperti yg digambar kuning).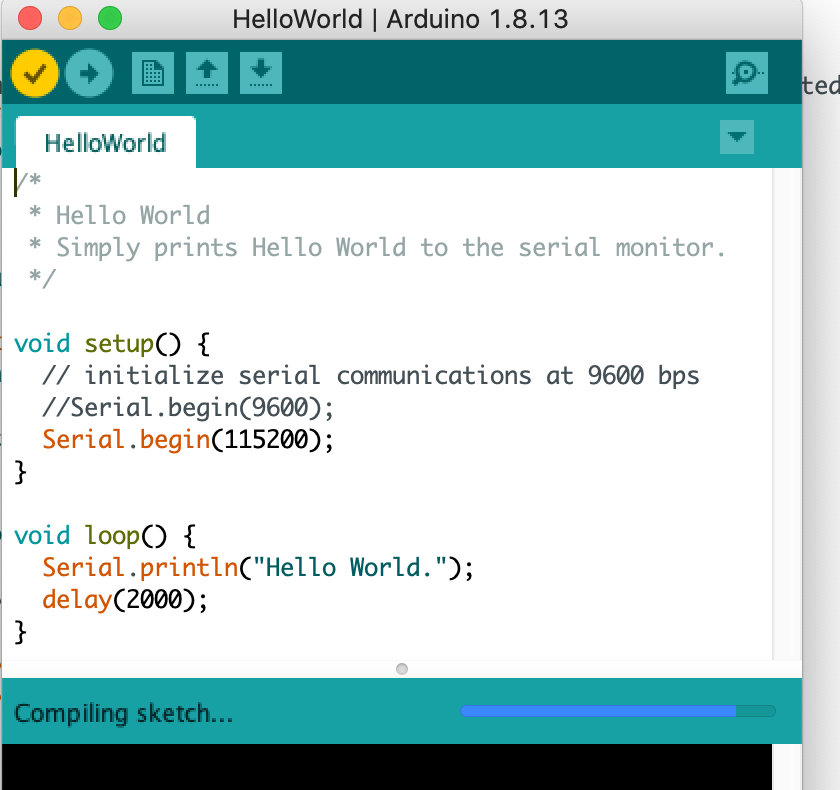 2. Klik Button (yg kunig) Untuk Upload code ke wemos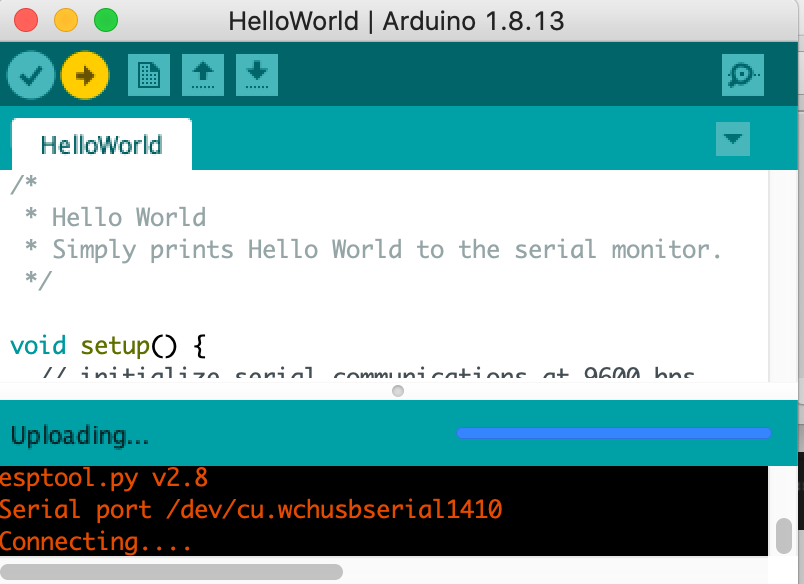 3. Buka Tools->Serial monitor. Lihat Output programmnya seperti berikut

Demikian sekedar tulisan singkat mengenai bagaimana memulai pemrograman pada wemos D1,
Semoga bermanfaat.
Untuk menerapkan Python programming dengan Board Wemost D1
Nantikan tulisan saya selanjutnya ya…..
Tulisan tentang python programming pada ESP8266 sudah dapat dibaca disini ya
Referensi:
https://elementztechblog.wordpress.com/2016/10/14/programming-esp8266-wemos-d1-r2-using-arduino-ide/
https://rjdlee.com/getting-started-with-wemos-d1-on-mac-osx/